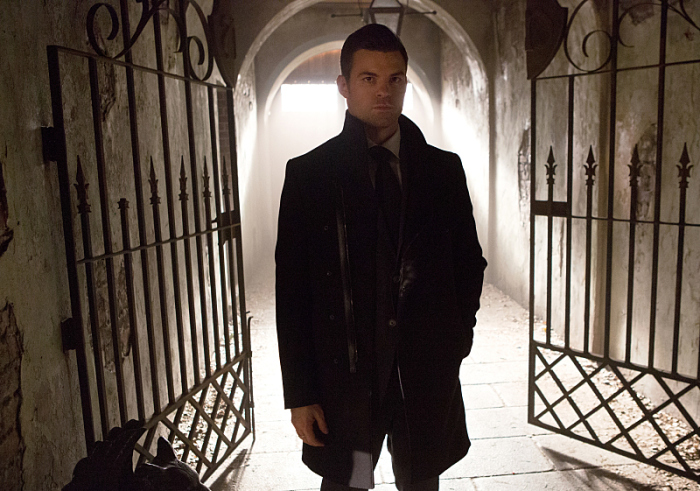 Thanks to TVLine, Michael Narducci sheds some light on what's to come in tonight's episode. And Zap2It spoke with Daniel Gillies recently to talk about the episode as well.
Via TVLine:
[Klaus is] about as angry as we've ever seen him," Narducci says. "He's the one who kills people's loved ones, who destroys his enemies and tears them apart. Now, someone has done that to him, and in a sense, it's his fault. Cami was targeted because she was close to Klaus. There's an element of rage and an element of guilt he must feel, and I think that's when Klaus is at his most dangerous — when he wants revenge and he wants to take people down for what they've done to him. We'll see Klaus off-balance, unsure of who he can trust."
Via Zap2It:
Regarding their surroundings, Vincent has gained a lot of power and in the midseason finale, he essentially said he wanted to rid New Orleans of the garbage the Mikaelsons bring in.
Without spoiling too much, in the following episode you're going to see Elijah's going to bring him beneath his cloak in a sense. He knows Vincent represents a great threat and a great power within the city and he wants to control that. We're going to see Elijah pay a visit to Vincent and engineer some sort of deal whereby he's kind of working for the Mikaelsons, in a sense.

That's deeply important right now, to have that power at their command.

Lastly, how hard will it be for Elijah to keep Klaus in check after what happened to Cami?
I don't know man. Klaus isn't exactly a character who despairs, is he? He's just someone who reacts with fire and brimstone. I think he's going to be out of control. And we know who the author of that misfortune is and I think that person is … It's just another war.