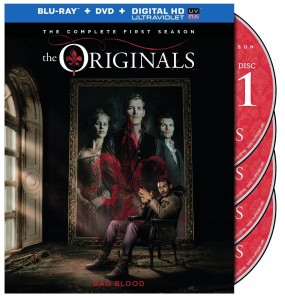 Thanks to Warner Bros. I have had the opportunity to review a copy of The Originals: Complete First Season on Bluray. The set is now available at your local retailers and you can also order your very own copy on Amazon. Click HERE to purchase!
Here are the bonus features this amazing set has to offer:
Pilot Commentary with Creator, Julie Plec and Director, Chris Grismer
This is an awesome way to relive the first episode of The Originals Season One. The episode is a remixing (with added scenes) of the original pilot that aired on The Vampire Diaries in Season 4. It is told through Elijah's point of view.
Julie and Chris do a great job taking you behind the scenes and explaining how the "magic" was made in the pilot episode.
Deleted Scenes:
This set included more than enough deleted scenes. It's unfortunate the moments that have to often be cut from episodes due to time constraints. Moments included: Scenes with Josh and Davina, and extended Klaus and Marcel vampires fight scene, and Elijah and Hayley and more. But my favorites were two scenes that were cut from the season finale with Jackson and Oliver. Trust me, you won't be disappointed.
The Originals: Origins
Julie Plec and the cast take us on a journey on how The Originals characters came to be on The Vampire Diaries and how they ended up with their own show.
The Originals Vampires: A Bite-sized Backstory
Talks a little more about the story of The Originals. It's basically a montage of scenes of The Originals, including scenes from The Vampire Diaries, giving us a little more history as to where The Originals came from.
The Originals: Re-mixing History
In this featurette, the writers of The Originals do a fantastic job explaining how episodes are created by blending fact with fiction. A cool insight into how these amazing writers do their job…ie. creating one of the best shows on Television.
Other Bonus Features: 2013 San Diego Comic Con Panel, The Originals Panel at PaleyFest 2014
In Summary:
The only thing that I was disappointed in, was the fact that a Blooper/Gag reel was not included in the bonus features. The fans always look forward to those!
But other than that, I have really enjoyed this set. Can't wait to dive in and watch all of the episodes over again. And for those of you that have never watched The Vampire Diaries or The Originals and are considering it, you won't be disappointed! I think the producers and writers do a wonderful job making this show it's on entity, and being a fan of The Vampire Diaries won't be necessary to enjoy and become in love with this show.
So what are you waiting for? Head out and get your copy today!