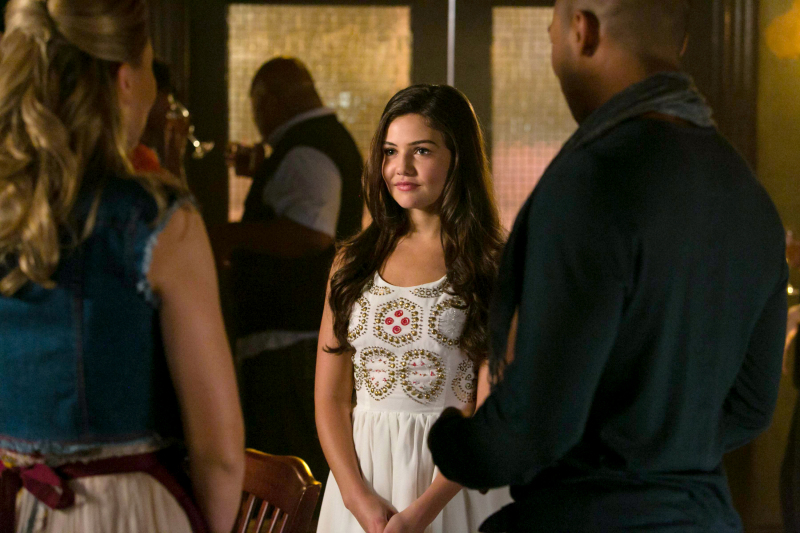 Danielle Campbell has made the news outlet rounds gearing up for tonight's episode "Sinners & Saints".
Via TV Guide:
"In a fight for power, she's the ultimate weapon," reads the tagline of Tuesday's episode (8/7c, The CW) when viewers will finally learn why and how 16-year-old Davina (Danielle Campbell) is arguably the most powerful being in New Orleans.

"So far, she's been known as this big secret so a lot of [answers] will be revealed," Campbell tells TVGuide.com. "Everyone is going to finally understand why she is the way she is."
Via JustJaredJr:
JJJ: There's still a lot we don't know about Davina. What can you say about what we'll learn?

DC: She has a view of everyone kind of installed in her head just from what she's heard and what she already experienced. She has these views for a reason and a betrayal of trust that happened along the way with certain characters. She's kind of growing as a normal teenager and also as this girl who has this immense power, which she's starting to understand and figure out how it works. So she's kind of getting tossed in this war of whose side she should be on and just kind of growing up in general.
Via Hollywood Life:
Will we be getting more intense scenes from Davina tomorrow night?

Totally! And I think you get a better feel for the witches; you see how this coven works. [The episode] gives everyone a true understanding of why Davina is the way she is, and why she has so much hatred towards the other witches who are supposedly her family. Instead of people thinking Davina's evil, they're going to feel for her. They're going to hope she gets what she wants.
Via TV Fanatic:
TVF: We see a lot of Davina with Elijah this week but I was surprised because I thought I'd see her be a bit more vindictive because in some ways he's trying to pull her away from Marcel.

DC: I think Davina knowing what she does about The Originals, she heard some from Marcel and she's also heard things, and I think she knows that Elijah is the noble one of the three and that gives her a little bit more incentive to hear what he wants to talk about with her. Also, I think you get a sense of how passionate and caring he is and wants what's best for her to help her.

When he talks to her, she listens because this is somebody outside of her circle of where she's been right now and he's someone who wants to help her control her power. With what you've seen in episode four and five you see that's the thing she wants the most right now is control the powers. When he offers that to her, I think that it's an offer that she doesn't want to refuse.