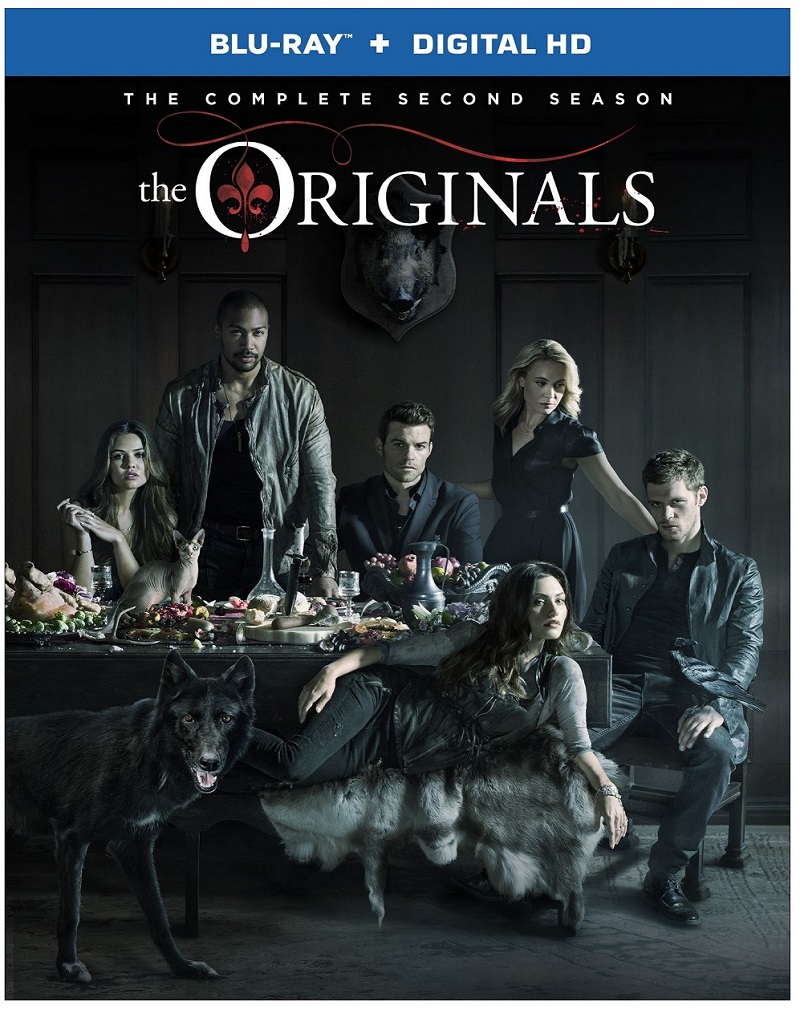 Thanks to Warner Bros. I have had the opportunity to review a copy of The Originals: Complete 2nd Season on Bluray. The set is now available at your local retailers and you can also order your very own copy on Amazon. Click HERE to purchase!
Synopsis:
As Original vampire-werewolf hybrid Klaus Mikaelson returned to the vibrant, supernaturally charged city of New Orleans in season one, he was stunned to learn — along with his siblings Elijah and Rebekah — that Hayley, a werewolf, was pregnant with his child, and his vampire protégé, Marcel, whom the Original siblings had thought long dead, was ruling the French Quarter. Soon, a bloody war escalated between vampires and witches — the stakes raised by powerful teenage witch Davina and by Klaus's bond with Cami, a student with a painful past — and a ruthless pack of wolves seized the opportunity to stage a violent coup. Now, in season two, a new status quo must be adjusted to, as the newly empowered werewolves control the city. Klaus struggles with weaknesses as Elijah desperately tries to save Hayley — now a hybrid — from a vicious spiral of self-destruction. Meanwhile, with the re-emergence of several Mikaelsons, "family is power" takes on new meaning.
The Originals Complete 2nd Season on Bluray Review
I just completed a full marathon of this entire Bluray set. Check out a preview of the special features this set has to offer:
The Originals: Always & Forever
The executive producers and cast discuss each member of The Mikaelson Family and their dysfunctional relationships. This is just an indepth discussion of each character and their interactions.
The Originals: The Awakening Web Series
Included on this set is the web series that featured flashback scenes of Kol, played by Nathaniel Buzolic. The web series offered new insight into the season 2 storyline and was a fun watch. A behind this scenes featurette is also included in addition to the 4 webisodes.
The Originals 2015 Comic Con Panel
The cast and writers of The Originals tease Season 2 at the 2014 San Diego Comic Con. This video is an edited version of the panel. A nice feature for those that have yet to see it.
Unaired Scenes
Several unaired scenes were included with this set. One of my favorites being between Hayley and Cami, where Cami mentions a moment that concerned her with Hope. We also get to see a scene with Mikael and Finn/Vincent that was deleted and more. The unaired scenes did not disappoint. My only complaint is that I wish there had been more of them!
Other Special Features: Gag Reel – so glad they included one this time, the fans always get a kick out of the cast's bloopers, and this one did not disappoint, Come Visit Georgia PSA – A very funny PSA with director Matt Hastings and other crew members that share a little behind the scenes of filming The Originals, championing Georgia and why they love shooting there.
In Summary:
I really enjoyed marathoning this set and watching the special features! I would have loved to have seen more. I was surprised to see an entire season on only 3 discs, and very minimal packaging. Again, as I've mentioned before, if you are a fan of The Vampire Diaries and you haven't already started watching The Originals. You are missing out. So grab your copies today of Season One and Season Two. You won't regret it! Also make sure to enter our giveaway below for your very own copy!
*****GIVEAWAY IS NOW CLOSED*****
Congrats to Melissa P!
The Originals Season 2 DVD/Bluray Giveaway Rules:
*Open to US residents only.
*One comment entry per person. (Other options to enter will be available once comment posted at the end of this blog post, this is mandatory and you will be disqualified if you don't complete this first)
*Winner will be randomly selected and notified September 18, 2015.
a Rafflecopter giveaway