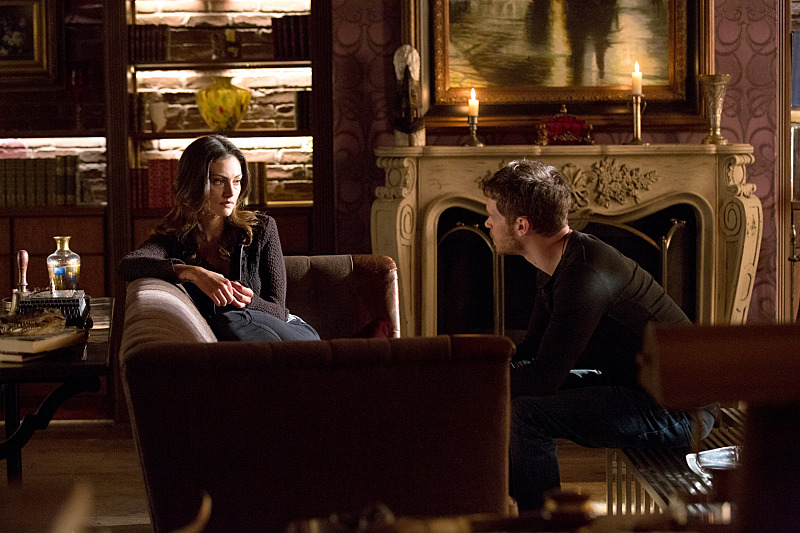 The Originals EP, Michael Narducci along with Phoebe Tonkin talk tonight's season premiere and this shocking plot twist that was revealed! We have excerpts from EW, TVLine and THR up first. We will post more as they come in. SPOILER ALERT!
Via EW:
First things first, after four months of driving Francesca crazy with their inaction, the Original family finally got their revenge, and Hayley ended up getting to do the honors. "It definitely is kind of a bit of a teamwork situation," Tonkin said of Francesca's death. "As much as it's hard for both [Hayley and Klaus], that baby was literally ripped out of Hayley to be sacrificed and part of Hayley is just missing right now, and that tiny thing of killing Francesca [could] help Hayley a little bit."
Via TVLine:
AUNTIE BEX | If you found yourself chanting "More Rebekah, please!" after Monday's premiere, we've got some good news: "We're going to see Rebekah and we're going to see baby Hope, and that's going to be an important part [of the season]," Narducci teases. "As to what Esther's plan for that baby is … Esther thinks the baby died. Esther doesn't know where Rebekah is. She's coming back with a definite agenda that we'll start to see unpacked in Episodes 2 and 3."
Via THR:
What are Kol's intentions with Davina? The second explores Kol's interests "and it takes off from there." While Esther may be dead-set on accomplishing her end-goal, Davina's presence (described as a "wild card") will be an obstacle she'll be forced to contend with. Kol, "who happened to be placed into the body of an extremely handsome and charming British witch might be the best guy to find out what's going on with Davina," Narducci said of Esther's plans.
Via E!Online:
"Finn hates vampires," Narducci said. "He was kept in a box for 900 years by Klaus. He doesn't get along with his siblings. He's absolutely loyal to his mother. We describe him like Norman Bates, this obsessive need to appease his mother, and we're going to explain where that comes from and why he is so adamantly on Esther's side. And with Kol, in the room we always talked about Kol as being the Loki of our story, mischievous, you never know where you're going to stand with this guy, what's he going to be up to? I absolutely believe that Esther brings him back to be on her side and a force that she can use to ultimately do what she wants to do which is eliminate vampires. But where does he fall in terms of his loyalties and alliances is one of the great stories that we're going to play over the course of the season."
Via Zap2It:
Are Hayley and Elijah on permanent pause?
Permanent is such a difficult word. I think that Elijah sees how broken and devastated Hayley is, not just by the loss of having to give up her child but the loss of her pureblooded werewolf aspect. … She spent the time we've known her leading into the pilot of the series looking for her family and she actually found them. They accepted her and welcomed her and droves of werewolves were showing up in the bayou because of the promise of this last crescent wolf, this queen. She was happy.

Now she's no longer a part of that and she's devastated. She's going through all the aftereffects that you would expect from someone recently becoming a vampire. On top of that, you've got your werewolf wild impulses and your instinctive desire to hunt and kill and that's accentuated by the fact that she's a vampire. So she's a mess. Elijah sees that and at the same time he recognizes that he can only help her so much because he's not what she is. The person who is what she is and understands what she's going through is his brother.