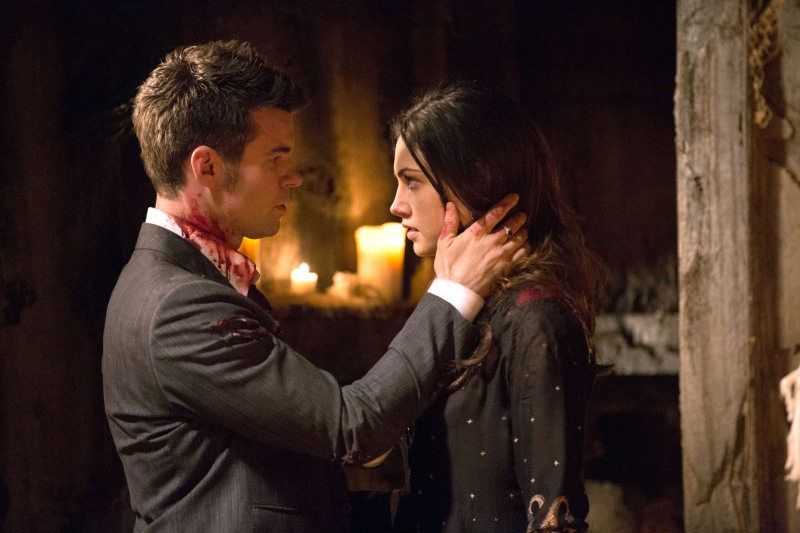 Thanks to E!Online, we have some scoop from Julie Plec. Also, Zap2It, TV Line and TV Guide spoke with Michael Narducci on what we can expect this coming season.
Taylor: Give me some scoop on my favorite couple on TV: Hayley and Elijah on The Originals!
Come on, is there really time for romance in NoLA?! "Elijah should be nervous about a lot of things. Elijah is going to go through some s–t this year at the beginning of the season,"Julie Plec told us. "It's not going to be all puppy dogs and rainbows for him at all." And one thing he'll definitely have to worry about? Hayley "reconnecting" with Jackson, as Nathan Parsons "will make his return about six episodes in."
'The Originals' boss dishes on Season 2 and the return of Mikael, Esther and a mystery brother via Zap2It.
Zap2it: When you first approached mapping out Season 2, what was your main goal?
Michael Narducci: There was all this conflict on the show in the first season between the vampires, the witches, the werewolves, and we really wanted to personalize the conflict in Season 2 by introducing some enemies that weren't just random bad guys. They are, in some ways, the existential villain of Klaus and Elijah's lives: The abusive father, Mikael, and the manipulative, dangerous mother, Esther.

How is Mikael and Esther's return going to affect Klaus and Elijah?
By showing our characters in conflict with their mother and father, we really get to explore the past and present, who they are, why they are the way they are, what made Klaus change from a sweet little boy we saw in flashbacks to the person he is today? And it's not just because of his abusive father, but also his mother had a hand in who he became. So we really get to unpack the origin story of our Original Mikaelson family, and that's something we really wanted to do.
The Originals Season 2: EPs Talk Klaus' Crisis, Haylijah's 'Friction' and More via TV Line.
KLAUS: THE EARLY YEARS | Season 2, Narducci explained, is "all about confronting the sins of the past. We're very much defined by our parents, but as we become adults, we begin to choose our own paths. … Klaus is very much a product of his abusive father, and very much a product of his mother." In going deeper into Klaus' moral origins, we'll see "flashbacks to when he was a child," as well as "right before he became a vampire." All of this will "examine what his relationship was with his mother, and the sense of betrayal that he felt when she came back from the dead and judged him as an abomination."
Originals' Michael Narducci: Klaus Will be Vindictive and Dangerous – But Now with Purpose via TV Guide.
"Everyone has a different reaction to tragedy. Some people look to replace it with another love, some people focus on self-improvement, but Klaus has decided that he will only imagine a day when he'll be reunited with [Hope] while he destroys everyone keeping that child away from him," executive producer Michael Narducci tells TVGuide.com. "So he will make everyone [pay] and that's a very Klaus-ian response. Some people said, 'Oh, Klaus is so sensitive and emotional this season' and I like that stuff, but I feel like Joseph is so good at playing vindictive and dangerous and now he gets to be that with purpose."