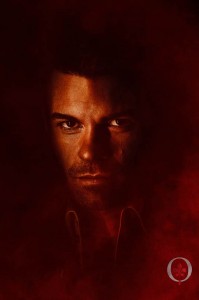 Check out the latest interviews in prep for tomorrow night's series premiere event of The Originals.
Daniel Gillies via TV Fanatic:
"The show will delve into more adult themes," he told me. "The protagonists aren't high school students; they're millenium-old vampires. The designs they have are of far greater consequence. They're looking to build an empire."

Gillies compares the plans and machinations of Elijah and Klaus on The Originals to a "supernatural game of chess," and it's clear who represents the king: Charles Michael Davis' Marcel. We'll witness him making some major threats on tomorrow night's episode, while we'll also be treated to a seated showdown between Elijah and his brother's former protege.

"I just can't wait to do more things with Charlies," Gillies said. "He's so great. We have that fun little scene, but I was hoping it would be more. I was hoping it would be like DeNiro and Pacino in Heat, but we could only do so much here in the interest of time."
Charles Michael Davis via Parade:
Tell us what you can about this week's pilot—what you can without the producers coming after you!

This week's pilot is told from Elijah's point-of-view, so you get a different take. You get a different interaction than what you saw in April's backdoor pilot. So relationships will unfold and develop.

A big theme in the show is family—the Originals, but also the relationship between Klaus and his protégé Marcel. We don't know if they're friends or foes, right?

Yeah, they obviously have a strong bond, and we'll get to that. But you don't know quite what it is yet, what the backstory is and just how they connected. So yes, they are family as well. And you'll start to see just how strong that bond is in the first few episodes.
Claire Holt via ETOnline:
ETonline: Tomorrow is a big night for you as Rebekah leaves TVD and transitions to The Originals. Do you think Mabekah fans will be happy with how that relationship is wrapped up?

Holt: Look, there's no version of that relationship where things work out. Yes, they have a lot of fans and people want us to succeed, but as Matt said in the finale, he wants to keep his life a vampire-free zone. We have a great time traveling through Europe, but Rebekah comes to realize that maybe he's not the love of her life, and just someone who satisfied a need at a specific point in her life and helped her reevaluate her priorities so now she's ready to kick some butt in New Orleans.